What's all this talk about the Open Enrollment Period and how will it affect your family? We're going to break down all the facts and talk about the important dates to save on your calendar.
What is the Open Enrollment Period?
This refers to the time period when Americans can either purchase or modify a health insurance plan for the upcoming year. This time frame was officially established by the Obama administration with the creation of the Affordable Care Act.
While the future of the ACA remains uncertain as the current White House attempts to undermine the program, the Open Enrollment Period remains an annual event.
When Is The 2019 Open Enrollment Period?
It officially begins on November 1st, 2018, and ends on December 15th, 2018, providing exactly 45 days for Americans to make an informed decision. If you have any questions or concerns regarding enrollment, we encourage you to call one of our agent at 1-855-881-0430. We can help you navigate through the confusion and find a plan that's suited for you.
Other Enrollment Dates
Each state either uses the federal exchange (otherwise known as healthcare.gov) or their own state-based exchange. For this reason, approximately a dozen states have slightly different enrollment dates outlined below.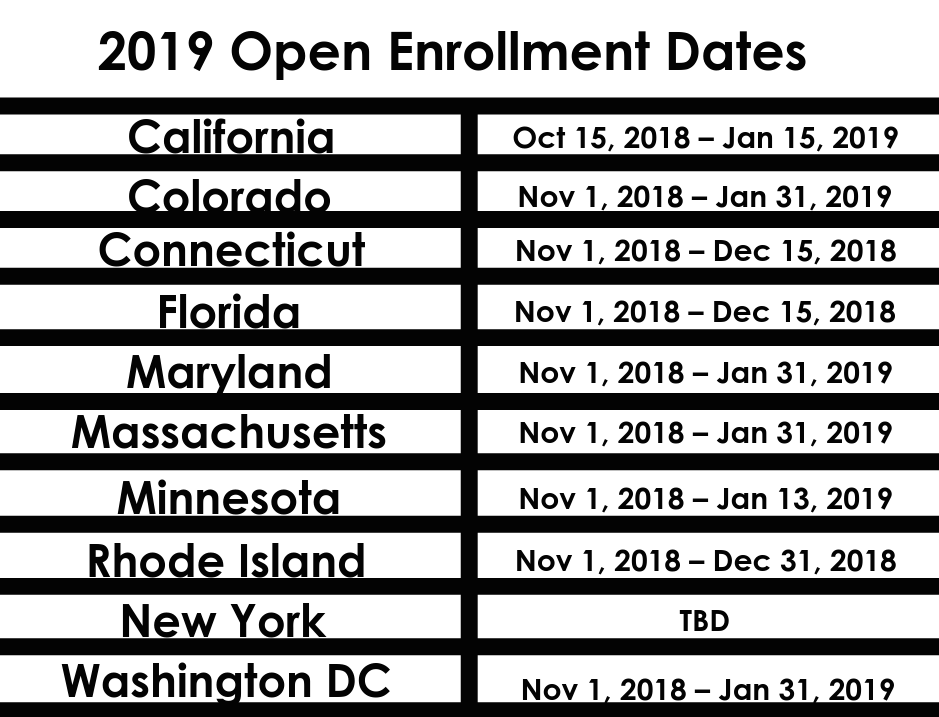 What If You Miss The Open Enrollment Period?
If you missed the 2019 Open Enrollment Period, you'll unfortunately have to wait until next year. It's not all bad news though, as you do have a few options. Firstly, if you've experienced a Qualifying Life Event, you can apply for special enrollment. Examples of a Qualifying Life Event include the following:
Marriage,

divorce

or legal separation

Birth or adoption of a child

Death of a spouse or child

Change in residence or work location, which impacts the eligibility

Your child fails to meet the plan's eligibility rules (for example, the student status changes)

You or your covered dependents gain or lose other coverage because of a change in employment status (for example, beginning or ending a job) 
For more information regarding this topic, you can always visit our resource page.
Short-Term Health Insurance
Those without an annual plan can also purchase a short-term health insurance plan, which can now last up to a few months. In most cases, short-term health insurance plans are more expensive compared to the competition, but these policies can serve as a lifeline for this who missed the Open Enrollment Period. For more information, you can visit our page dedicated to short-term health insurance.
If you have any outstanding questions, we recommend contacting one of our agents at 1-855-881-0430 or visit HealthQuoteInfo.com.