Highlights and Updates
Arkansas is a state-based exchange. Residents can enroll through HealthCare.gov.

Open enrollment for 2020 coverage in Arkansas has ended.

The Open Enrollment Period for 2021 coverage begins November 1, 2020.

Short-term health plans have initial plan terms of up to 364 days.

The average premium increased by 4% in 2020. 

Four carriers offer coverage through the Arkansas exchange.
The Arkansas Health Insurance Marketplace
It's imperative for every Arkansas resident to have some form of health insurance coverage. Whether it is solely for emergency events or conclusive coverage that includes all medical care, finding a plan to match your needs helps you access the services you require. 
Since 2016, Arkansas has operated as a state-based exchange that uses HealthCare.gov, the federal enrollment platform. Arkansas residents can enroll in individual and family health insurance plans on the exchange platform. 
There are currently four insurers available, but in 2021, two new carriers will enter the Arkansas exchange. 
Arkansas Open Enrollment Period and Dates
Open enrollment for 2020 coverage has ended. For health insurance coverage in 2021, Arkansas residents can enroll during the Open Enrollment Period that runs from November 1, 2020, to December 15, 2020.
During the 2020 Open Enrollment Period, 64,360 Arkansas residents enrolled in health insurance plans through the exchange.
Arkansas Health Insurance Statistics

Health Insurance Rate Changes in Arkansas
Health insurance premiums fluctuate every year. Arkansas residents must closely monitor changes to ensure they aren't overpaying.
In 2020, Bronze, Silver, and Gold plans saw a small rise. Despite the slight increase, Arkansas premiums remain lower than most other states.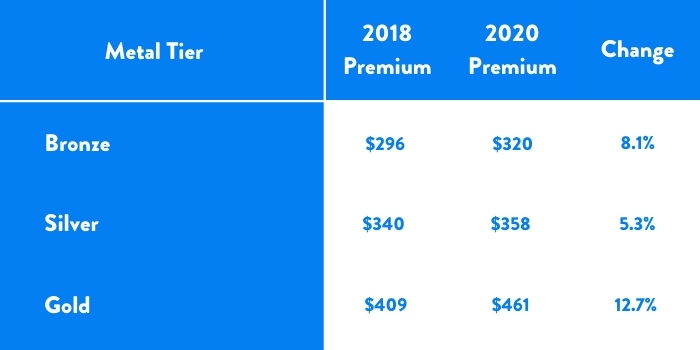 Short-term Health Insurance in Arkansas
Short-term health insurance provides temporary coverage. It is primarily used by individuals who missed the Open Enrollment Period or recently lost employer-sponsored coverage. 
Short-term insurance is an excellent option in certain situations, but enrollees must understand that the coverage doesn't include many essentials, such as maternity and mental healthcare. 
Arkansas follows the federal regulations, allowing enrollees initial terms up to 364 days and total duration of up to 36 months.
How Much Does Health Insurance Cost in Arkansas
Health insurance premiums vary based on location, age, and other factors. That makes it difficult to estimate how much coverage would cost without creating a quote based on your credentials.
Overall, Arkansas has low health insurance premiums when compared to other states. In 2020, the average monthly health insurance premium for a 40-year-old is $405, a rise of 4% over previous year. 
Arkansas Health Insurance Companies
For individuals enrolling in coverage through the Arkansas marketplace, there are four insurance companies available. The only company not available in every Arkansas county is QualChoice.
In 2021, Arkansas will have six insurers to choose between. The Arkansas Insurance Department has published the marketplace changes for the forthcoming year, and two new insurers are joining the exchange: Health Advantage and Oscar. 
How Has Obamacare Helped Arkansas?
Arkansas is one of Obamacare's biggest success stories. Since its inception, the state's uninsured rate has dramatically decreased, thanks to the program's improved accessibility.
In 2013, Arkansas had an uninsured rate of 16%. Three years later, this figure had decreased to 7.9% – a reduction of over 50%. This has been fuelled by the available qualified health plans, Medicaid, and the Children's Health Insurance Program (CHIP).
Choosing Health Insurance Plans in Arkansas
If you don't receive health insurance from the federal government or an employer, you can buy a plan on the Arkansas marketplace. Plans on the marketplace are divided into three main metal tiers: Bronze, Silver, Gold. The higher the tier, the greater the coverage and the more expensive the premium. 
The low-cost coverage that Bronze plans possess might be appealing, but depending on your healthcare needs, they're not always the most affordable option. 
Bronze plans are best for young and healthy individuals, silver plans are a good match for the average consumers, and gold plans are the ideal choice for those expecting high medical costs.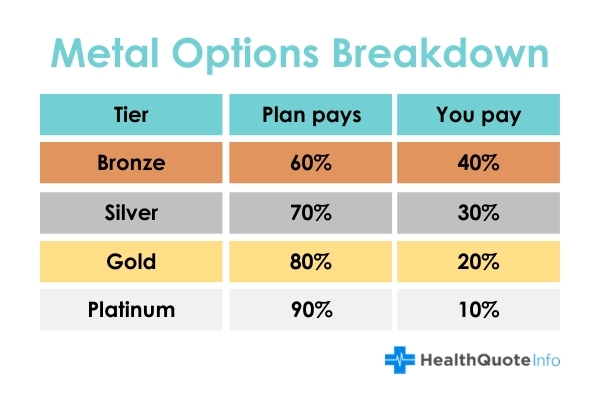 Cheap Health Insurance Plans in Arkansas by Metal Tier
The following plans have the cheapest premiums in Arkansas for 2020 coverage. 
Premiums are based on an average 40-year-old Arkansas resident, so the cheapest plan might differ based on your credentials.
The most affordable Bronze plan is

Bronze Plan 1

offered by Arkansas BlueCross and Shield. The plan's monthly premium is $320, the deductible is $7,000, and the out-of-pocket maximum is $8,150. 

The cheapest Silver plan is

Ambetter Balanced Care 12 (2020)

provided by Ambetter. The plan's monthly premium is $358, the deductible is $6,500, and an out-of-pocket maximum of $8,150.

If you're looking for complete coverage with a Gold plan,

Ambetter Secure Care 5 (2020)

has a monthly premium of $461, deductible of $1,250, and an out-of-pocket limit of $5,900.
Gold Plans – Ideal for High Medical Costs
Gold plans are best-suited to older individuals or those expecting significant medical expenses throughout the year. The policies have high premiums, but the out-of-pocket expenses are low, which is appealing to those who frequently use their coverage.
Silver Plans – Ideal for Average Medical Costs and Low Incomes
Silver plans are an excellent choice for relatively healthy people who intend to use their insurance. The monthly premium is much lower than a Gold plan, and the out-of-pocket expenses are less than a Bronze plan.
If your income falls below 250% of the federal poverty level and you are enrolled in a Silver plan, you may qualify for discounts toward deductibles, copayments, and coinsurance.
Bronze Plans – Ideal for Healthy, Young People
Bronze plans are a good match for young and healthy individuals who don't use their health insurance often. This tier has the cheapest policies in the Arkansas exchange, making them accessible to those who want coverage in case of emergency.
Although these plans are very affordable, they do have higher deductibles and out-of-pocket limits.  If you are considering enrolling in a Bronze plan, ensure you have enough money to cover out-of-pocket costs should a medical emergency arise. 
Average Cost of Health Insurance by Family Size in Arkansas
Every year, thousands of Arkansas households search for family health insurance. Finding an airtight plan for the right price can provide the ultimate peace of mind. That's why choosing the right family health plan is so important. 
With families coming in different shapes and sizes, it can be difficult to know exactly how much you can expect to pay for a family health plan. The cost depends on your policy, location, household income, and family size.
Children aged 14 and younger are covered at the same rate, but when the child reaches 15 years old, the premiums increase annually. The following prices are based on 40-year-old adults and children under the age of 14: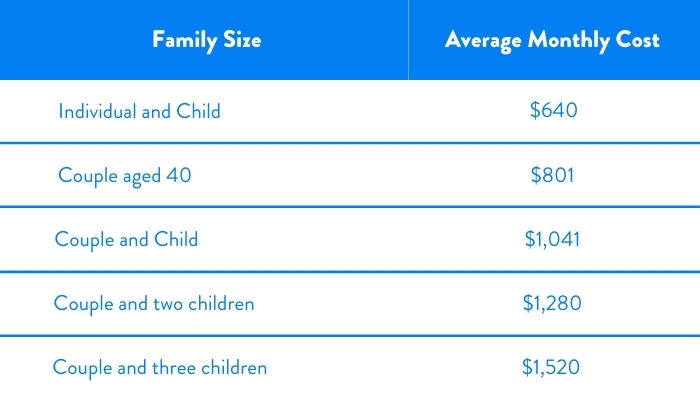 Get Help Comparing Health Insurance Plans in Arkansas
When searching for health insurance in Arkansas, there are ways to put the odds in your favor. You can tap the expertise of HealthQuoteInfo, and help you determine the most suitable health insurance plan for both you and your family.
To find affordable health insurance plans in your location, all you need to do is enter your zip code in our search bar. You can then sort through and compare the various health insurance quotes in Arkansas.
Our licensed agents can walk you through the entire process, compare plans with you, and help select the right policy. Call us today on 1-855-881-0430.