California Health Insurance Overview
California has its own state-run exchange, often considered one of America's most successful.

In 2020, California implemented state-based premium subsidies.

The Open Enrollment Period in California usually runs until January 31. 

Due to COVID-19, the period has been extended to July 31, 2020, for uninsured residents.

Eleven insurers offer coverage in the California individual market.

1.54 million California residents enrolled in private plans during the Open Enrollment Period for 2020 coverage.
California's Health Insurance Marketplace
California operates on a state-run exchange that is widely considered one of America's most successful. The Covered California marketplace usually runs between October 15 and January 31, but in 2020, due to the COVID-19, it has been extended until July 31, 2020. 
California residents have access to 11 different insurance companies on the state-run marketplace: 
Health Insurance Plans in California
Cheap health insurance in California is easier to find than you might think. Various health insurance companies are available to compare on the state's marketplace, with L.A. Care Health Plan, Anthem Insurance, and Blue Shield of California being the most popular choices for cheap insurance. 
Anthem Insurance and Blue Shield of California provide plans throughout the state, while the L.A. Care Health Plan is only available to Los Angeles County residents. 
California Health Insurance Statistics

How has Obamacare Helped California?
California has fully embraced the healthcare reform that Obamacare introduced.
California has created its own state-based exchange and expanded Medicaid. Likewise, the state has provided premium subsidies for households between 200 and 600 percent of the poverty level.
California's ongoing efforts to make healthcare coverage more accessible have resulted in the uninsured rate dropping from 17.2% to 7.2% between 2013 and 2018. 
Health Insurance Rate Changes in California
With a population close to 40 million, it's unwise to group the rate changes in every California county together. Each county within the state sees contrasting rate changes every year – some see an increase while other areas might have cheaper rates than the year previous. 
So, while the average rate change in California in 2020 was less than one percent, as you will see, the changes in each of the state's largest counties widely vary. In 2020, all of California's largest counties experienced increases in the average policy costs for a 40-year-old.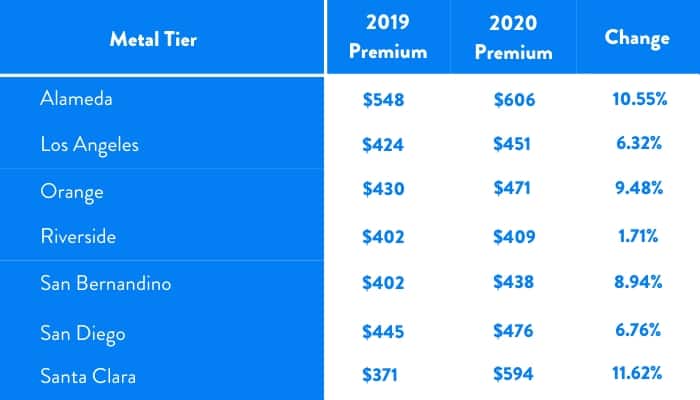 Short-term Health Insurance in California
It isn't possible to purchase short-term health insurance in California. Lawmakers passed Senate Bill 910 in 2018 that banned the sale of short-term health insurance beginning on Jan. 1, 2019.
It is no surprise that California banned short-term health insurance – the state already had significant regulations on these policies: limiting the policies to 185 days, even though the federal government limits the policies to a year.
Short-term health insurance policies in California are no longer legal for good reason. Most of these policies don't cover mental health, maternity, prescription drugs, and more, meaning that they don't provide the coverage most people need.
COBRA Insurance in California
COBRA insurance is available in California and is required by all employers. COBRA insurance allows an individual to continue their group insurance benefits after being fired or quitting a job. 
Student Health Insurance in California
Student health insurance plans are also available on the Covered California portal. These plans are designed for full-time students between 17 and 29 and can be purchased through the same insurance providers that offer marketplace coverage.
Students in California also have other options when it comes to health coverage:
Young people can stay on their parent's policies until they reach the age of 26. 

Students can sign up for a school-sponsored plan if their school offers it. 
Best Cheap Health Insurance Companies in California
In California, there are eleven different health insurance companies available on the state's marketplace. Not all of these companies are provided in every California county, so the best and cheapest health insurance provider varies from county to county. 
Silver plans are by far the most popular coverage level for Californians. The cheapest providers of silver plans, with coverage in most California areas, are Blue Shield of California and Kaiser Permanente.
The respective Silver 70 EPO and Silver 70 HMO plan are the most affordable Silver plans in most California counties. 
How Much Does Health Insurance Cost in California?
California residents can expect to pay an average of $200.3 per person* for a major medical individual health insurance plan. Prices will vary, and premiums can be lower if you are in good health.
Finding Your Best Health Insurance Coverage in California
If you don't receive health insurance from the federal government or an employer, you can buy a plan on the California health insurance marketplace, Covered California.
Health insurance plans on the marketplace are divided into three main metal tiers: Bronze, Silver, Gold. These tiers all offer the same minimum benefits, but the higher the tier, the higher the proportion of medical expenses the plan covers. However, increased coverage, of course, comes with a more expensive monthly premium.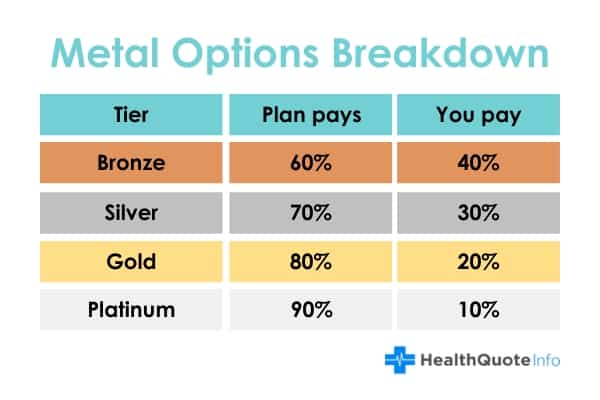 Going with the lowest premium you can find may be tempting, but depending on your health care needs may not be your most affordable option. You need to consider out-of-pocket costs before buying a policy.
Cheapest California Health Insurance Coverage by Metal Tier
Finding a cheap health insurance plan in California is easy. With eleven different insurance providers in California, there are plenty of different affordable policies to browse in each metal tier. 
These quotes are based on an average 40-year-old California resident.
The most affordable Bronze level plan is the Bronze 60 HDHP EPO. The monthly premium is $261.90, the deductible is $6,000, and the out-of-pocket maximum is $6,650.

For Silver-tier coverage, consider the Silver 70 HMO plan. The monthly premium is $362.31, and the deductible is $2,500. The out-of-pocket maximum is $7,550.

If you want to get a Gold tier plan without paying too much, the Gold 80 HMO is a good option. It has a $365.77 monthly premium, and it does not have a deductible. There is an out-of-pocket maximum of $7,200.
Gold and Platinum: Best If You Expect High Medical Costs
Gold plans are the best health insurance plans in California for people who expect high medical costs. These plans do have high premiums, but the out-of-pocket expenses are much lower than other health insurance plans. 
You will pay the deductible quickly and then benefit from the coinsurance. These plans help you with everything from diagnostic testing to prescriptions and can save you money when you have health issues.
Silver: Best for Those with Low Income or Average Medical Costs
If you earn less than 250 percent of the federal poverty level, a Silver plan might be the right option. You will receive cost-sharing reductions along with tax credits to help you pay the premium and out-of-pocket expenses. While the tax credits are available for all plans, the cost-sharing reductions are only an option if you purchase a Silver plan.
These plans are also a good choice for relatively healthy people who intend to use their insurance. The premium is much lower than a Gold plan, and the out-of-pocket expenses are less than a Bronze plan.
Bronze: Best for Young, Healthy Individuals
If you are young and healthy, you can benefit from a Bronze plan. The premiums are low, but the high out-of-pocket costs make this plan a poor choice for people who expect to spend much time at the doctor's office. 
Because of the high out-of-pocket cost, it's critical to have enough money in savings should a medical emergency arise. 
Get Help Comparing Health Insurance Plans in California
There are lots of health insurance companies in California, and these companies offer an assortment of plans. Choosing the right one is essential so you can get the coverage you need. Make the process easy by calling 1-855-881-0430. You will be connected to a licensed insurance agent who will help you compare quotes and select the best policy.