Highlights and updates
Colorado has a state-run exchange, Connect for Health Colorado. 

The state is among 13 others that run their own exchange.

Open enrollment for 2020 coverage in Colorado has ended.

The Open Enrollment Period for 2021 coverage begins November 1, 2020.

Short-term health insurance plans are not available in Colorado.

The average monthly premium cost decreased by 26% in 2020. 

Eight carriers offer coverage through the Colorado exchange.
The Colorado Health Insurance Marketplace
There is no good reason for anyone in Colorado to go without health insurance. Without a health insurance plan, it's virtually impossible to afford proper medical care. 
Colorado residents have several options in obtaining affordable health insurance. They can get a plan through their employer, one of the public programs for low-income families, or via a private insurance carrier. 
Affordable individual and family health insurance plans are available through the state-run marketplace, Connect for Health Colorado. Insurers on the marketplace meet ACA standards and sell plans during the annual Open Enrollment Period. 
On the Colorado exchange, eight health insurance companies offer policies:
In 2021, the eight insurers will offer 159 individual/family health insurance plans, an increase of 29. 
Colorado Open Enrollment Period and Dates
Unlike exchanges run by the federal government, Colorado has a longer Open Enrollment Period that lasts for 2.5 months. Colorado residents can enroll in a plan between November 1 – January 15, one month longer than federally-run exchanges that end on December 15. 
Open enrollment for 2020 coverage has ended, but Colorado residents will be able to enroll in 2021 plans from November 1, 2020.
Close to 170,000 people enrolled in plans through Colorado's health insurance marketplace (Connect for Health Colorado) during 2020 open enrollment. 
Colorado Health Insurance Statistics

Health insurance Rate Changes in Colorado
Health insurance premiums fluctuate every year. Colorado residents must closely monitor changes to ensure they aren't overpaying.
In 2020, Bronze, Silver, and Gold plan premiums all saw a drastic decrease. Residents who pay premiums in their entirety enjoyed significant monthly savings, and in 2021, premiums are expected to remain at a similar level.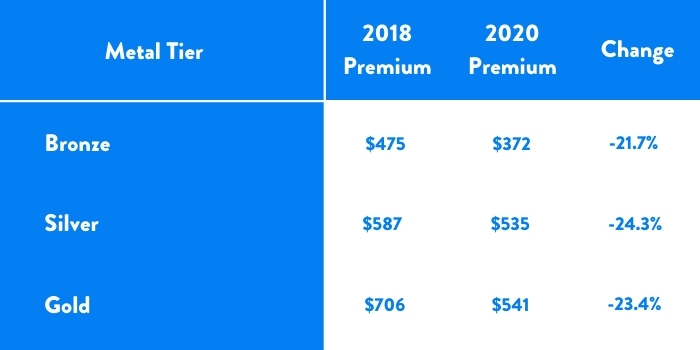 Short-term Health Insurance in Colorado
Colorado implemented strict regulations that terminated short-term health insurance plans in 2019. Colorado has joined ten states where short-term plans are unavailable.
How Much Does Health Insurance Cost in Colorado
Health insurance premiums vary based on location, age, and other factors. That makes it difficult to estimate how much coverage would cost without creating a quote based on your credentials.
Colorado has seen a significant decrease in premium costs over the past couple of years, thanks to new carriers joining the marketplace. With new carriers on the marketplace, Colorado residents have more options to choose from, leading to more affordable plans. 
In 2020, the average monthly health insurance premium for a 40-year-old is $358, a decrease of 26% from the year previous! 2020 was the first year that average premiums decreased in Colorado. Individuals who do not qualify for subsidies are the biggest beneficiaries of the decrease. 
Easy Enrollment Program Coming in 2022
Starting in 2022, Connect for Health Colorado will implement the 'Easy Enrollment' program that will use residents' 2021 tax returns to see if they are eligible for free or subsidized health coverage.
The program, which was signed into law by Governor Polis in 2020, will make it possible for the exchange to get in touch to Colorado residents eligible for Medicaid, CHP+ or premium subsidies. 
Colorado Health Insurance Companies
For individuals enrolling in coverage through the Colorado marketplace, there are eight insurance companies available:
Anthem (HMO Colorado)

Bright

Cigna

Denver Health

Friday Health Plan

Kaiser Permanente

Oscar

Rocky Mountain Health Plan
In 2021, the same eight carriers will offer plans on the marketplace. The average premium increase proposed by the eight insurers for 2021 is 2.2%, but some have proposed increases and others decreases. 
For example, Anthem premiums will increase by an average of 6.4% while Friday Health plans will decrease by an average of 12.2%.
Has the ACA Helped Colorado?
For decades, Colorado has been a leader in healthcare reform. Even before the Affordable Care Act was implemented, maternity coverage was mandatory and gender-based premiums were banned. 
As such, uninsured rates in Colorado have always been lower than the national average. In 2013, the uninsured rate sat at 14.1% and has since dropped to 7.5%. 
Choosing Health Insurance Plans in Colorado
If you don't receive health insurance from the federal government or an employer, you can buy a plan on the Colorado health insurance marketplace. Health insurance plans on the marketplace are divided into three main metal tiers: Bronze, Silver, Gold. 
Higher-coverage metal tiers have a higher premium, but lower out-of-pocket costs. Bronze plans have a low premium that is appealing but depending on your healthcare needs, they might not be the most affordable option.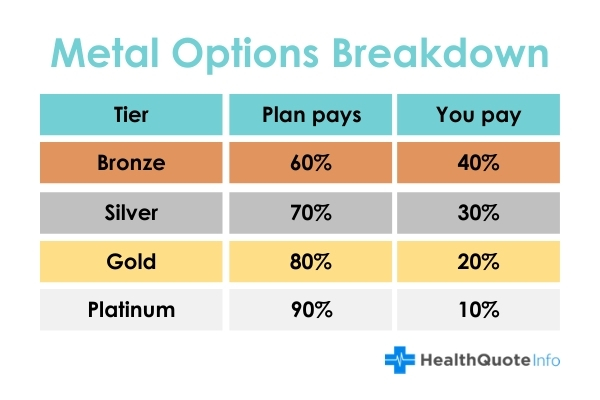 Cheap Health Insurance Plans in Colorado by Metal Tier
Each metal tier has different premiums and out-of-pocket costs associated with it: the higher the coverage, the more expensive the premium. 
The following premiums are based on an average 40-year-old. Unfortunately, these policies aren't available in every Colorado county:
Anthem Bronze Pathway X HMO 8150

is the most affordable of the Bronze health insurance plans in Colorado. This plan has a monthly premium of $262, a deductible of $8,150, and an out-of-pocket maximum of $8,150.

If you are looking for a cheap Silver-tier health insurance plan in Colorado,

Anthem Silver Pathway X HMO 5500

is the most affordable. The plan has a monthly premium of $329 and a deductible of $5,500 and an out-of-pocket maximum of $7,000.

Gold plans are at the top of the metal tier system.

Kaiser Permanente Select CO Gold 1750/20

is the cheapest available plan with a monthly premium of $378, a deductible of $1,750, and an out-of-pocket maximum of $7,800.
Gold Plans – Ideal for High Medical Costs
Gold plans are the best health insurance plans in Colorado for people who expect high medical costs. Enrollees can expect higher premiums, but the lower out-of-pocket expenses make Gold plans appealing to those who regularly use health insurance.
Silver Plans – Ideal for Average Medical Costs and Low Incomes
Silver plans are a good choice for relatively healthy people who intend their health insurance. The plans are an affordable middle ground with cheaper premiums than Gold plans and lower out-of-pocket expenses than Bronze plans.
Silver plans are often the best place to start in your health insurance search as they are a good fit for a wide range of people. Additionally, if you earn less than 250% of the federal poverty level, you will receive cost-sharing reductions on Silver plans. 
Bronze Plans – Ideal for Healthy, Young People
If you are young and healthy, Bronze plans are a good match. The low premiums are perfectly suited to those who will rarely use their coverage. However, the high out-of-pocket costs make the plans only suitable for those able to absorb a higher deductible.
Unlike the majority of states, Bronze plans are the most popular in Colorado. Colorado has a lower-than-average percentage of enrollees who qualify for subsidies, which means many residents have to pay the full premiums. In 2020, two-thirds of unsubsidized residents chose bronze plans.
Get Help Comparing Health Insurance Plans in Colorado
Are you searching for health insurance coverage in Colorado? If you aren't sure which metal tier is right for you, or how to find the most affordable policy for your needs, get in touch with HealthQuoteInfo.
Our licensed agents will walk you through the entire process, compare plans with you, and select the right policy. Call us today at 1-855-881-0430.