Highlights and Updates
Connecticut has a state-run marketplace, Access Health CT.
Open enrollment for 2020 coverage has ended.
The Open Enrollment Period for 2021 coverage begins November 1, 2020.
A COVID-19 special enrollment period was created for uninsured residents in 2020.
Connecticut limits short-term health insurance plans to six months with no renewals.
The average premium increased by 3.7% in 2020.
Enrollment in 2020 was the lowest since 2014.
The Connecticut marketplace has two insurers.
Connecticut Health Insurance Marketplace
There is no reason Connecticut residents should go without reliable health insurance. The state has a range of insurance options available to keep you and your family covered.
Connecticut residents can find affordable health insurance through the state-run marketplace, Access Health CT. Access Health CT is one of the nation's best marketplaces that has successfully operated without facing the technical problems that have troubled many other states.
Up until 2016, there were four insurance companies on Access Health CT, but only two remain: Anthem BlueCross BlueShield and ConnectiCare. Both insurers meet ACA standards, and residents can enroll in plans during the annual Open Enrollment Period.
Over 100,000 Connecticut residents enroll in plans through the Connecticut marketplace, most of which receive some form of financial assistance to cover the costs of coverage (74%).
Open Enrollment Period Dates
Open enrollment for 2020 coverage has ended. For health insurance coverage in 2021, Connecticut residents can enroll during the Open Enrollment Period that runs from November 1, 2020 to December 15, 2020.
Since AccessHealth CT is a state-run exchange, it can extend the Open Enrollment Period for last-minute enrollees. In 2019 and 2020, AccessHealth CT issued an extension of one month, so it's plausible that the same could happen in 2021.
During the 2020 Open Enrollment Period, 107,833 Connecticut residents enrolled in plans through Access Health CT.
Connecticut Health Insurance Statistics

Health Insurance Rate Changes in Connecticut
Every year, health insurers on the marketplace adjust plan premiums, deductibles, and out-of-pocket costs. To ensure you are not overpaying for a plan, it is best to familiarize yourself with the average rate changes every year.
Unlike other states, premiums in Connecticut have seen modest movement since 2018. Bronze and Silver plans remain at a similar price-point, and Gold plans have seen a more significant drop. The average rate increase for 2019 was 2.72%, and for 2020, it was 3.65%.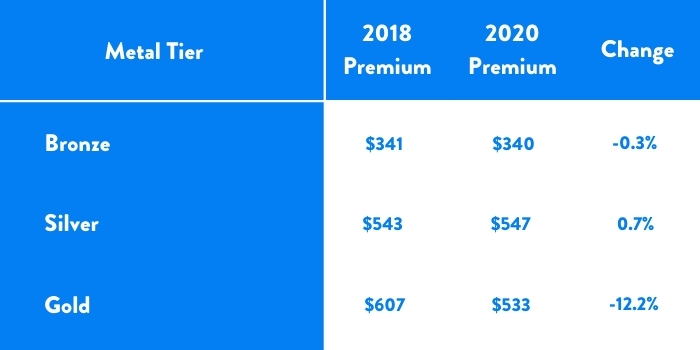 The Connecticut Insurance Department has published details of the proposed rate changes for 2021, and Connecticut individuals will see an average rate increase of 6.3%.
Short-term Health Insurance in Connecticut
Short-term health insurance can be beneficial when you are between jobs or missed the open enrollment period. In Connecticut, regulations state that short-term coverage can last no longer than six months and prohibits renewals.
Additionally, all short-term health insurance plans must cover essential benefits (prescription drugs, maternity, mental health care, etc.). Because insurers must adhere to such stringent requirements, no insurance companies currently offer short-term plans in Connecticut.
How Much Does Health Insurance Cost in Connecticut
Health insurance premiums vary based on location, age, and other factors. That makes it difficult to estimate how much coverage would cost without creating a quote based on your credentials.
In 2020, the average cost of health insurance in Connecticut is $452 for a 40-year-old.
Connecticut Health Insurance Companies
The Connecticut health insurance marketplace has two insurance companies: Anthem BlueCross BlueShield and ConnectiCare. Both insurers offer policies in every Connecticut county.
ConnectiCare offers affordable family and individual plans with additional benefits, including vision exams and dental services. Anthem Health Plans is an individual and family health insurance provider with several tiers available to help you balance costs and coverage.
ConnectiCare is the insurer of choice for the majority of enrollees on the Connecticut marketplace (78% of enrollees selected ConnectiCare in 2019).
For 2021 coverage Anthem Health Plans have proposed a 9.9% average rate increase and ConnectiCare has proposed an average rate increase of 5.5%.
How has ACA/Obamacare Helped Connecticut?
The Affordable Care Act (ACA/Obamacare) has been a big success story in Connecticut. The state's uninsured rate has dropped considerably since the ACA was implemented, falling from 9.4% in 2013 to 5.3% in 2018 – one of the country's lowest uninsured rates!
Elsewhere, the state has expanded Medicaid creating coverage for 160,000 people unable to afford coverage without the ACA.
Choosing Health Insurance Plans in Connecticut
If you don't receive health insurance from the federal government or an employer, you can purchase a health insurance plan on the Connecticut marketplace.
Health insurance in the marketplace is broken down into three main metal tiers: Bronze, Silver, and Gold. All tiers provide the same benefits, but higher metal tiers cover a larger percentage of expenses and have lower deductibles.
The best tier depends on your unique circumstance; what works for you might be the opposite for your neighbor. Broadly speaking, individuals with regular medical costs should opt for low-deductible policies (Gold/Silver plans). In contrast, healthy individuals who rarely use health insurance should choose cheaper premiums (Bronze/Catastrophic plans).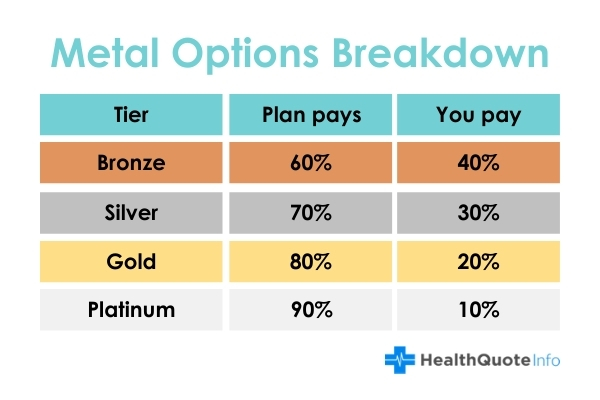 Cheap Health Insurance Plans in Connecticut by Metal Tier
Each metal tier has different premiums and out-of-pocket costs associated with it: the higher the coverage, the more expensive the premium.
The two insurers in Connecticut offer policies in every county; therefore residents have multiple choices available. The following plans are the cheapest available for an average 40-year-old.
Passage Bronze Alternative PCP POS is the most affordable Bronze plan in Connecticut. The plan is offered by ConnectiCare and has a monthly premium of $309, a deductible of $6,500, and an out-of-pocket maximum of $8,150.
Silver plans are the most popular health insurance tier in Connecticut, and Choice Silver Standard POS is the cheapest option. The plan is also offered by ConnectiCare and has a monthly premium of $503, a deductible of $4,300, and an out-of-pocket maximum of $8,150.
Gold plans are at the top of the metal tier system. Gold HMO Pathway X Enhanced Tiered is the cheapest of the Gold plans with a monthly premium of $486, a deductible of $1,750, and an out-of-pocket maximum of $8,150.
Gold Plans – Ideal for High Medical Costs
Gold plans are ideal for Connecticut residents who incur significant medical expenses. Monthly premiums are higher than other metal tiers, but the deductibles are much lower. The lower out-of-pocket costs can be significant for individuals with chronic health conditions or taking a lot of prescription medication.
Silver Plans – Average Deductibles and Premiums
Silver plans in Connecticut are an excellent middle-ground option with affordable premiums and reasonable out-of-pocket expenses. The monthly premium is much lower than a Gold plan, and the out-of-pocket costs are less than a Bronze plan.
Silver plans are the only health insurance policy that is eligible for cost-saving reductions. If your household income falls below 250% of the federal poverty level and you are enrolled in a Silver plan, you receive subsidies on out-of-pocket costs. Such subsidies can make Silver plans more cost-effective than Gold plans.
Bronze Plans – Ideal for Healthy, Young People
If you are a young and healthy individual who uses their health insurance sparsely, Bronze plans are a good match. The low monthly premiums mean you won't be overpaying for coverage that you will rarely use.
Although these plans are the most affordable in Connecticut, they have higher deductibles and out-of-pocket limits. Should a medical emergency arise, you will be met with more expensive costs; therefore, enrollees must ensure that they have enough money to cover such costs.
Compare Health Insurance Plans in Connecticut
When searching for health insurance in Connecticut, there are ways to put the odds in your favor. You can tap the expertise of HealthQuoteInfo, and help you determine the most suitable health insurance plan for both you and your family.
To find affordable health insurance plans in your location, all you need to do is enter your zip code in our search bar. You can then sort through and compare the various health insurance quotes in Connecticut.
Our licensed agents can walk you through the entire process, compare plans with you, and select the right policy. Call us today at 1-855-881-0430.