Highlights and Updates
Delaware has a federally-facilitated marketplace. Residents enroll through Healthcare.gov.
Open enrollment for 2020 coverage in Delaware has ended.
The Open Enrollment Period for 2021 coverage begins November 1, 2020.
Delaware limits short-term health insurance plans to three months.
The state introduced a reinsurance program in 2020.
The average premium decreased by 19% in 2020.
The Delaware marketplace only has one insurer.
The Delaware Health Insurance Marketplace
There is no reason for you to go without health insurance coverage in Delaware. The state has a range of options available so that you and your family can access the medical services you require.
Delaware residents can find affordable health insurance through the federally-facilitated marketplace. Insurers on the marketplace meet ACA standards and are available through HealthCare.gov during the annual Open Enrollment Period.
Previously, there were two health insurance companies on the marketplace, but since 2018, just one remains: Highmark BCBSD of Delaware.
Although Highmark is the only insurer available to Delaware residents, it offers a variety of policies that allow you to match a plan to your healthcare needs. In 2021, the insurer will introduce six new plans.
Delaware Open Enrollment Period and Dates
Open enrollment for 2020 coverage has ended. For health insurance coverage in 2021, Delaware residents can enroll during the Open Enrollment Period that runs from November 1, 2020, to December 15, 2020.
If you have a qualifying life event (moved to a new state, marriage, job loss, etc.), you qualify for a special enrollment period and can still enroll or make changes to 2020 health coverage.
During the 2020 open enrollment period, 23,961 Delaware residents enrolled in plans through Delaware's exchange – a 6% increase.
Delaware Health Insurance Statistics

Health Insurance Rate Changes in Delaware
Every year, health insurers on the marketplace adjust plan premiums, deductibles, and out-of-pocket costs. Delaware residents should be aware of pricing changes to ensure they don't enroll in an overpriced plan.
The plan premiums in 2020 have seen a dramatic decrease since 2018, falling across all metal tiers.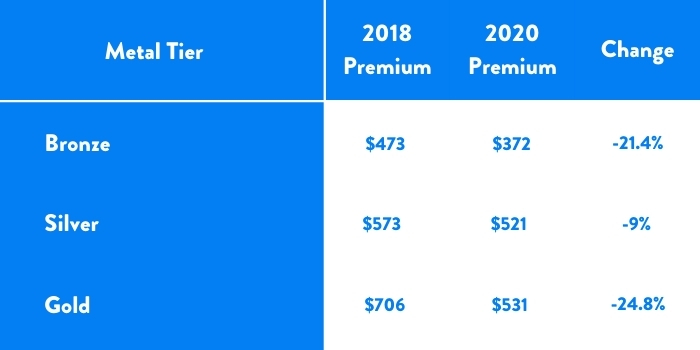 For 2021, Highmark BCBSD of Delaware has proposed an overall average rate decrease of 0.5%. However, the increase or decrease will vary from plan to plan.
How Much Does Health Insurance Cost in Delaware
Health insurance premiums vary based on location, age, and other factors. That makes it difficult to estimate how much coverage would cost without creating a quote based on your credentials.
In 2020, the average cost of health insurance in Delaware is $475 for a 40-year-old – a 13% decrease compared to 2018.
Delaware Reinsurance Program
In 2020, Delaware introduced a reinsurance program that pays a portion of high-cost health care claims.
The reinsurance program provides funds to health insurers when a claim reaches a certain amount. In 2021, the program will pay 80% of claims between $65,000 and $335,000.
Because insurers are no longer solely responsible for covering high-cost claims, they can charge lower premiums. This is why health insurance premiums in Delaware saw a 19% decrease in 2020 – the first time premiums declined since the marketplace opened in 2013.
With lower premiums available, health insurance is more affordable to those who have to pay the full price.
Delaware Health Insurance Companies
Unlike other states, Delaware has just one health insurance company on the marketplace: Highmark BCBSD Inc. Naturally, this limits the number of options, but Highmark offers multiple policies within metal tiers.
For Silver plans – the most popular metal tier – the insurer offers two different plans, each with different deductibles and out-of-pocket maximums. The variety of policies gives you the flexibility to find a plan that matches your financial situation.
Short-term Health Insurance in Delaware
Until December 1, 2018, Delaware followed the federal regulations which allowed short-term health insurance plans of up to 12 months. However, the state has since enacted new regulations that limit short-term health insurance plans to three months and prohibit renewals.
Individuals are not allowed to enroll in back-to-back short-term plans. Instead, they must wait one year until they can enroll in their next.
Has the ACA Helped Delaware?
Before the Affordable Care Act (Obamacare) was introduced, Delaware already had a healthy uninsured rate below the national average. Since the ACA was put into place, the uninsured rate has decreased further, dropping from 9.1% in 2013 to 5.7% in 2018.
Choosing Health Insurance Plans in Delaware
If you don't receive health insurance from the federal government or an employer, you can purchase a plan on the Delaware marketplace. Health insurance in the marketplace is broken down into three main metal tiers: Bronze, Silver, and Gold.
All tiers provide the same minimum benefits, but higher metal tiers cover a larger percentage of expenses and have lower deductibles. However, the increased coverage of Gold plans, of course, comes with a more expensive monthly premium.
The best tier for you depends on your household income and expected medical costs. Broadly speaking, individuals with regular medical costs should opt for low-deductible policies (Gold/Silver plans). In contrast, healthy individuals who rarely use health insurance should choose cheaper plans (Bronze/Catastrophic plans).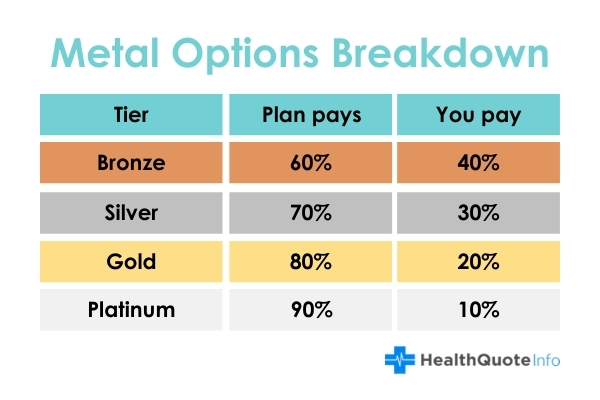 Cheapest Health Insurance Plans in Delaware by Metal Tier
Each metal tier has different premiums and out-of-pocket costs associated with it: the higher the coverage, the more expensive the premium.
The following premiums are based on an average 40-year-old. Because Delaware has just one insurer, plans are available in all areas.
Shared Cost Blue EPO Bronze 7900 is the most affordable Bronze health insurance plan in Delaware. This plan has a monthly premium of $372, a deductible of $7,900, and an out-of-pocket maximum of $7,900.
If you are looking for a cheap Silver-tier health insurance plan in Delaware, Health Savings Embedded Blue EPO Silver 3950 HSA is the most affordable. The plan has a monthly premium of $521 and a deductible of $3,950 and an out-of-pocket maximum of $6,750.
Gold plans are at the top of the metal tier system. Shared Cost Blue EPO Gold is the cheapest Gold plan with a monthly premium of $531, a deductible of $0, and an out-of-pocket maximum of $7,500.
Gold Plans – Ideal for High Medical Costs
Gold plans aren't for everyone, but they are ideal for Delaware residents who regularly incur significant medical expenses. The premiums are higher than other metal tiers, but the annual deductible is much lower.
For individuals with chronic health conditions or taking a lot of prescription medication, the savings from the low out-of-pocket costs can be significant.
Silver Plans – Ideal for Average Medical Costs and Low Incomes
Silver plans in Delaware are an excellent option for residents looking for affordable premiums and reasonable out-of-pocket expenses. The monthly premium is much lower than a Gold plan, and the out-of-pocket costs are less than a Bronze plan.
Silver plans are a good choice for low-income households. If your household income falls below 250% of the federal poverty level and you are enrolled in a Silver plan, you receive cost-sharing reduction subsidies that reduce the out-of-pocket costs.
Catastrophic and Bronze plans: Best for Healthy Individuals
Bronze and Catastrophic plans are the cheapest health policies. While the low premiums are tempting, the high out-of-pocket costs make Bronze plans risky for those with pre-existing health conditions.
The plan caters for young and healthy individuals who rarely use their insurance. If you are considering enrolling in a Bronze plan, you need to ensure you have enough savings to cover the high out-of-pocket costs, should an unexpected medical emergency occur.
Average Cost of Health Insurance by Family Size in Delaware
Every year, thousands of Delaware households search for family health insurance. In fact, over two-thirds of the state is made up of family households.
For Delaware families, finding a dependable healthcare plan can provide the ultimate peace of mind, which is why it is important to do your research.
The average cost depends on the policy, location, household income, and family size. Children aged 14 and younger are covered at the same rate. After the age of 14, the child's premium increases year-on-year.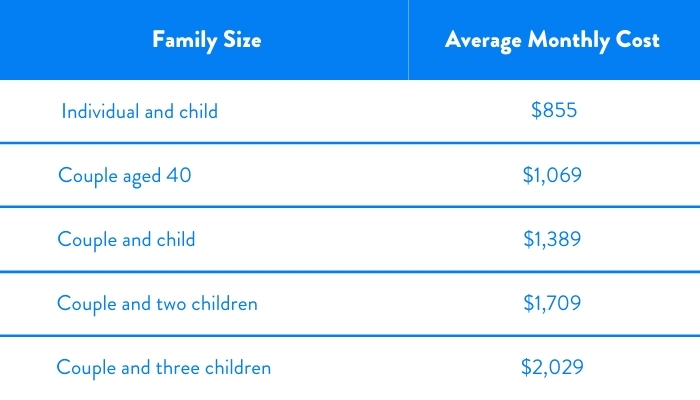 Compare Health Insurance Plans in Delaware
Are you searching for health insurance coverage in Delaware? If you aren't sure which metal tier is right for you, or how to find the most affordable policy for your needs, get in touch with HealthQuoteInfo.
Our licensed agents will walk you through the entire process, compare plans with you, and select the right policy. Call us today at 1-855-881-0430.