Health Insurance in Indiana Overview
Among The Hoosier State's 6.5 million residents, just 8 percent are uninsured. Coverage in the state is better than the national average, with Indiana residents finding coverage through a mixture of employment insurance, government-funded programs (Medicare and Medicaid), and marketplace plans. 
Residents of Indiana can find a range of affordable health insurance plans on the marketplace, but the best rates depend on your age, medical conditions, budget, and county in which you live. This year, health insurance plans have slightly increased, but over half of the Indiana population qualifies for subsidies to lower the cost.
Indiana's Health Marketplace
Indiana uses the federal health marketplace, so to enroll in a health plan, residents must use HealthCare.gov.
Open enrollment for 2020 health plans has ended, but it is still possible to enroll if you have a qualifying life event, such as relocation or marriage. Alternatively, the open enrollment period for 2021 health plans begins on November 1, 2020.
Indiana Medical Insurance Statistics
Indiana has 6,530,000 residents

8 percent of residents are uninsured

54 percent of residents are insured through their employer

Close to 1.4 million Indiana residents are enrolled in an HMO plan.

Two insurance companies are available to Indiana residents on the 2020 marketplace.
The Affordable Care Act in Indiana
In Indiana, the Affordable Care Act (ACA/Obamacare) came into effect in 2013. At the time, around 900,000 Indiana residents were uninsured. In 2018, this figure had decreased to 549,000 – dropping the uninsured rate from 14% to 8%.
Before introducing the ACA, insurers could deny coverage due to an individual's pre-existing conditions or charge exorbitant premiums. But, now, affordable healthcare is available to all, no matter their health status.
Now, when you shop for health insurance on the marketplace, all plans are required to offer ten essential benefits:
Ambulatory patient services (outpatient)

Hospitalization

Emergency services

Maternity and newborn care

Mental health and substance use disorder services

Prescription drugs

Pediatric services (oral and vision)

Laboratory services

Preventive and wellness services and chronic disease management

Rehabilitative and habilitative services and devices.
In Indiana, Affordable Care Act plans are available to enroll in during the open enrollment period (November 1 – December 15) via healthcare.gov. 
Health Insurance Rate Changes in Indiana
Like other states, Indiana residents usually see an increase in health insurance rates year-on-year, due to rising healthcare costs and growing life expectancy. 
The premiums for the forthcoming year are set by insurers and then approved by the Indiana exchange. Since 2018, the average premium cost for a typical 40-year-old has increased by 13%. The amount of change depends on the metal tier level.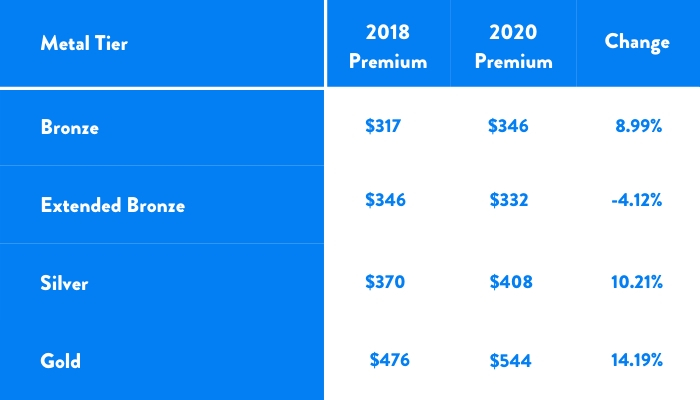 Choosing Health Insurance Plans in Indiana
To find the right health insurance plan in Indiana, you first need to consider your medical needs. Some people need coverage with low out-of-pocket maximums to cover healthcare expenses, while young and healthy people are more concerned about the premiums they'll pay.
Your income also plays a role in determining the coverage you get. Indiana has expanded its Medicaid coverage, and you are eligible if your income is up to 138 percent of the federal poverty level. If you don't qualify for Medicaid, you can get a cost-sharing reduction on Silver level plans if your income is between 139 and 250 percent of the federal poverty level.
Short-term health insurance in Indiana
When you miss the open enrollment period or only need healthcare coverage for a certain amount of time, short-term health insurance is a possibility. 
Indiana follows the federal short-term plan rules, allowing coverage terms of up to 364 days, and total duration, including renewals, of up to three years.  However, the state does impose various other restrictions, including a benefit cap of at least $2 million.
It isn't possible to purchase short-term health insurance from the healthcare marketplace because these policies do not meet the Affordable Care Act's guidelines. Additionally, those with pre-existing conditions might not qualify for coverage. 
Indiana Medicaid
Medicaid expansion, as enacted by the ACA, extends Medicaid eligibility to adults whose income is up to 138 percent of the federal poverty level. If you fall into this threshold, you can receive financial support to pay your medical costs.
Indiana expanded Medicaid in 2015, and in the years that followed, average monthly enrollment in Medicaid has soured. 
Indiana has two Medicaid coverage types: HIP Basic and HIP Plus. 
HIP Plus is a premier plan type that includes dental and vision coverage, and no copays except for emergency room use for non-emergency care. Conversely, HIP Basic has copays and does not cover dental and vision care.
Individuals with income below the poverty level can enroll in HIP Basic without premiums or pay premiums to access the additional benefits of HIP Plus.
How Much Does Health Insurance Cost in Indiana
Health insurance rates vary based on location, age, and other factors. As such, it's difficult to provide an accurate estimate of how much health insurance coverage would cost you and your family without creating a quote based on your credentials.
The average health insurance premium for a 40-year-old in Indiana is $420 – an increase of $48 per month on the 2018 average.
Best Cheap Health Insurance Companies in Indiana
In 2020, Indiana's health insurance marketplace had two insurers available for residents: CareSource Indiana and Celtic Insurance. 
Both insurers are available to residents in every Indiana county and offer Expanded Bronze, Silver, and Gold policies. If you are looking for a Bronze plan, these are only available from Celtic Insurance in Indiana. 
The cheapest plan often depends on the county you live in. The same policy can have different rates in each county. For example, in Indiana, the premium for a single 40-year-old can range from $272 to $421 per month for the same plan. 
Finding your Best Health Insurance Coverage in Indiana
To find the best health insurance coverage in Indiana, we always recommend you compare every option, and this begins by looking into the different metal tiers available. 
Health insurance plans on the marketplace are divided into three main metal tiers: Bronze, Silver, Gold. These tiers all offer the same minimum benefits, but the higher the tier, the higher the proportion of medical expenses the plan covers. However, increased coverage, of course, comes with a more expensive monthly premium. 
When comparing, you might not want to enroll in all of the plans you find, but comparing will give a good indication of what coverage and premiums to expect for your budget.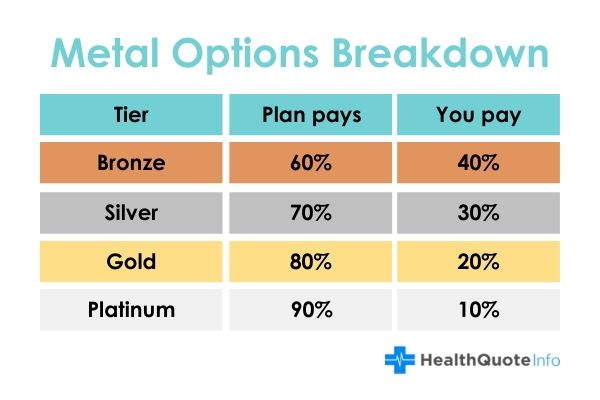 Gold Plans: Best If You Expect High Medical Costs
When shopping for health insurance plans in Indiana, you'll notice that Gold plans have the highest premiums. That turns many people away, but these plans are ideal for people who have a lot of medical expenses. 
The low out-of-pocket costs make up for the high premiums and can actually help you save money during the year. People with chronic conditions should seriously consider these plans. If you are unsure if you will be able to afford the high out-of-pocket costs associated with other plans, get quotes for Gold tier policies here.
People with lots of medical expenses often opt for Gold plans. Ambetter Secure Care 1 comes with 3 Free PCB Visits and a premium of $377.19 a month. The deductible is only $1,000, and the out-of-pocket maximum is $6,350.
Silver Plans: Best for Those with Low Income or Average Medical Costs
Silver plans offer a balance between the high premiums of Gold plans and the high out-of-pocket expenses that come with Bronze plans. You can expect a Silver plan to cover around 70 percent of your healthcare costs. These plans will cover even more if you qualify for a cost-sharing reduction. 
Silver plans are popular in the state of Indiana, and the Ambetter Balanced Care 5 policy is the most affordable offering. The monthly premiums are $267.68, while the deductible and out-of-pocket maximum are $7,350.
Bronze Plans: Best for Young, Healthy Individuals
Young and healthy people usually don't want to pay for Silver and Gold plans since they don't use their insurance coverage very often. If you fit into that category, a Bronze plan might be the right choice.
Bronze premiums are lower, but you will pay higher out-of-pocket costs. You can expect these plans to cover around 60 percent of your healthcare expenses. If you go a step up to an Expanded Bronze plan, it will cover around 65 percent of your costs.
While these plans are a suitable option for young and healthy individuals, it's important to understand that medical emergencies can happen to anyone. It's recommended that people have the necessary money to cover expenses in case they arise.
Bronze plans sit at the bottom of the metal tier in Indiana. People who want cheap health insurance in Indiana can purchase the CareSource Bronze plan. It has an average monthly premium of $259.55. The deductible is $7,250, and the out-of-pocket maximum is $7,350.
Indiana also has Expanded Bronze plans on the state marketplace. The CareSource Federal Simple Choice Bronze is the most affordable Expanded Bronze Plan with a monthly premium of $293.60, a deductible of $6,650, and an out-of-pocket maximum of $7,350.
Average Cost of Health Insurance by Family Size in Indiana
The cost of health insurance for your family in Indiana will largely be affected by the tier and health plan you select, the number of people covered and their ages. Adding children to your health insurance plan will cost an additional flat rate for coverage until they are 15. Upon reaching 15, the monthly rate will increase as they grow older.
Indiana Open Enrollment 2021
The open enrollment period, for health insurance plans effective in 2021, runs from November 1, 2020 – December 15, 2020.
If you miss the open enrollment period, it is possible that you qualify for a Special Enrolment Period (SEP) if you experienced a life-changing event, such as job loss, getting married, or having a baby. SEP gives you 60 days before or 60 days after the event to enroll in a health insurance plan. 
Alternatively, short-term health insurance plans, Medicaid, and Children's Health Insurance Program, are available year-round. 
Get Help Comparing Health Insurance Plans in Indiana
Do you feel overwhelmed when comparing health insurance plans in Indiana? There are many options available on the exchange, and choosing the right one requires time and research. 
You can make the process easier by calling 1-855-881-0430. You will be connected to a licensed insurance agent who will help you with the process. The agent will take your health and financial information and find a policy that meets your specific needs.