Health Insurance in Mississippi Overview
Mississippi uses the federally run exchange, with residents enrolling through Healthcare.gov.

Open enrollment for 2020 health plans has ended. 

For 2021 healthcare coverage, residents can enroll during the Open Enrollment Period that begins on November 1, 2020.

Short-term health plans are available for up to 364 days.

Two insurers are offering coverage through the Mississippi marketplace.
Mississippi Health Marketplace
As a Mississippi resident, you can enroll in individual and family health insurance plans through the federal exchange. Participating insurers on the exchange meet ACA standards and are available through HealthCare.gov during the annual Open Enrollment Period. 
Open enrollment for 2020 health plans has ended. For health insurance coverage in 2021, Mississippi residents can enroll during the Open Enrollment Period that runs from November 1, 2020, until December 15, 2020.
With only two insurers available through the marketplace, finding the right plan can be slightly more difficult for Mississippi residents. The limited options are why the state suffers from an uninsured rate much higher than the national average. 
Mississippi Medical Insurance Statistics

Health Insurance Rate Changes in Mississippi
Health insurance premiums naturally fluctuate every year as a result of spiralling health costs and rising life expectancy. The insurer sets the premiums for the forthcoming year before they are approved by the federal health insurance exchange.
In 2020, Mississippi felt minimal changes to their Bronze, Silver, and Gold plans. Bronze was the only plan type that saw an increase.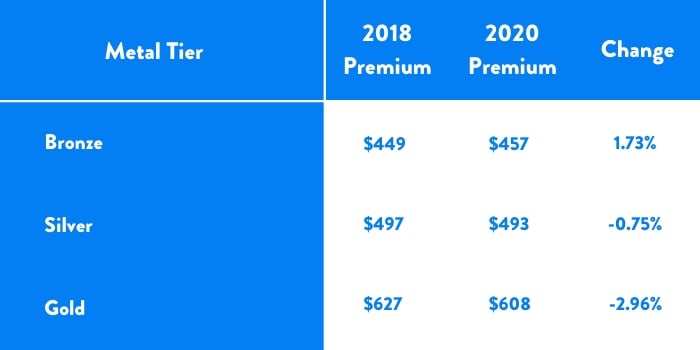 Has Obamacare helped Mississippi?
Obamacare (ACA) was introduced to make health insurance more affordable and accessible.
In Mississippi, over 90 percent of marketplace enrollees qualified for premium subsidies in 2020, and 89 percent receive cost-sharing reductions – the highest percentage in the United States. 
Although still high, Mississippi's uninsured rate has dropped significantly since the introduction of the ACA, falling from 17.1% in 2013 to 12.1% in 2018. 
Short-term Health Insurance in Mississippi
Short-term health insurance can provide temporary coverage to those who missed the Open Enrollment Period or recently lost employer-sponsored coverage. Mississippi residents can enroll in a short-term plan for up to 364 days and renew the same plan for up to 36 months.
Small Business Health Insurance Mississippi
While large firms tend to provide health benefits to their employees, there is no reason for small businesses not to offer the same privilege.
As an employee, you can take advantage of these plans which allows you to have coverage even if you have a preexisting condition. You may also find these plans more affordable because the employer pays for a portion of the premiums.
Medicaid & Low Income Health Insurance Mississippi
While Medicare offers health benefits mostly for senior citizens over the age of 65, Medicaid is for those who haven't reached that age yet. It's primarily low-income families as well as for people with special needs.
Mississippi did not expand Medicaid through the Affordable Care Act, meaning Medicaid is only available to adults with dependent children who have an income 23% or less than the federal poverty level. Pregnant women are eligible if they have a household income of up to 194% of the poverty level.
Mississippi CHIP Program
Ensuring children are protected with healthcare coverage is a top priority for most parents. Thankfully, the Children's Health Insurance Program (CHIP) ensures all children can access healthcare, even if they come from a low-income household. 
CHIP is available to children in Mississippi up to the age of 19. If your family earns too much to be eligible for Medicaid, you are eligible for CHIP if your family income level is 209% or less of FPL.
Early and Periodic Screening, Diagnosis, and Treatment (EPSDT)
The Early and Periodic Screening, Diagnosis, and Treatment (EPSDT) program offers preventive and comprehensive health services for children under 21. This has been expanded, so it is now known as the Expanded Mississippi Early and Periodic Screening and Diagnostic Treatment (EPSDT).
How Much Does Health Insurance Cost in Mississippi
Health insurance rates vary based on location, age, and other factors. That makes it difficult to estimate how much coverage would cost without creating a quote based on your credentials.
In 2020, the average monthly health insurance premium for a 40-year-old is $500 per month – a decrease of 3%.
Best Cheap Health Insurance Companies in Mississippi
Mississippi residents only have access to two health insurance companies: Ambetter of Magnolia and Molina Healthcare.
Of the two available insurance companies, Ambetter of Magnolia often has the cheapest rates for Expanded Bronze, Silver, and Gold plans. 
The cheapest Silver plan – the most popular metal tier type – in most Mississippi counties is Ambetter Balanced Care 11. 
Finding Your Best Health Insurance Coverage in Mississippi
If you don't receive health insurance from the federal government or an employer, you can buy a plan on the Mississippi health insurance marketplace.
Health insurance plans on the marketplace are divided into three main metal tiers: Bronze, Silver, Gold. The more health care coverage, the higher the monthly premium will be.
Bronze plans' low premiums might be appealing, but depending on your health care needs, they might not be the most affordable option.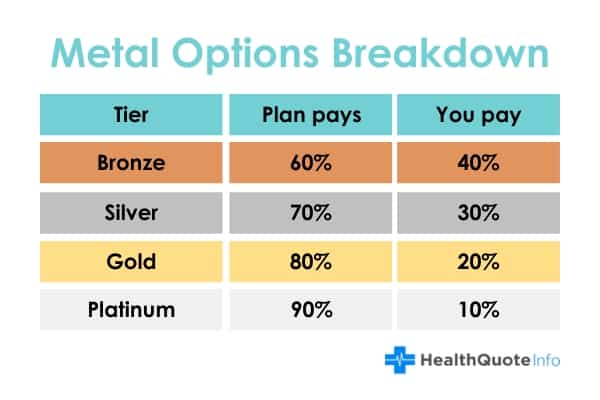 Cheapest Health Insurance by Metal Tier
Policies in the higher metal tiers have larger monthly premiums, so it's important to consider the average cost of each tier's plan. The premiums are based on an average 40-year-old 
The most affordable Bronze plan is Core Care Bronze 2. The plan's monthly premium is $425, the deductible is $8,000, and the out-of-pocket maximum is $8,125. 

The cheapest Silver plan is Ambetter Balanced Care 11 which costs $399 per month, has a $6,000 deductible, and an out-of-pocket maximum of $8,100.

If you're looking for complete coverage with a Gold plan, the Ambetter Secure Care 5 has a monthly premium of $540, deductible of $1,250, and an out-of-pocket limit of $5,900.
Gold Plans: Best If You Expect High Medical Costs
Gold plans are the best option for Mississippi residents expecting significant medical expenses throughout the year. Because Gold plans have extensive coverage, they do have high premiums, but the out-of-pocket expenses are much lower than other health insurance plans. 
Silver Plans: Best for Modest Premiums and Average Coverage
Silver plans are also a good choice for relatively healthy people who intend to use their insurance. The monthly premium is much lower than a Gold plan, and the out-of-pocket expenses are less than a Bronze plan.
Silver plans are particularly popular with Mississippi residents because enrollees are eligible for extra cost-saving reductions. If your income falls below 250% of the federal poverty level, then you may qualify for discounts toward deductibles, copayments, and coinsurance.
Bronze Plans: Best for Young, Healthy Individuals
The low monthly premiums Bronze plans provide is a draw to young and healthy individuals. Because those in good health with no preexisting conditions rarely use their health coverage, the low monthly premium makes sense. 
However, it's important to note that while premiums are low, the plans come with high out-of-pocket costs. This makes it critical for Bronze plan enrollees to have enough money saved should a medical emergency arise. 
Average Cost of Health Insurance by Family Size in Mississippi
Mississippi has over 360,000 households with children, meaning plenty of Mississippi households search for family health insurance coverage every year. Of course, the amount your family can expect to pay depends on your policy, location, household income, and family size.
Each child aged 14 or younger adds 25% onto the policy fee. In the table below, you can see the average cost of a family health insurance plan based on your family's size.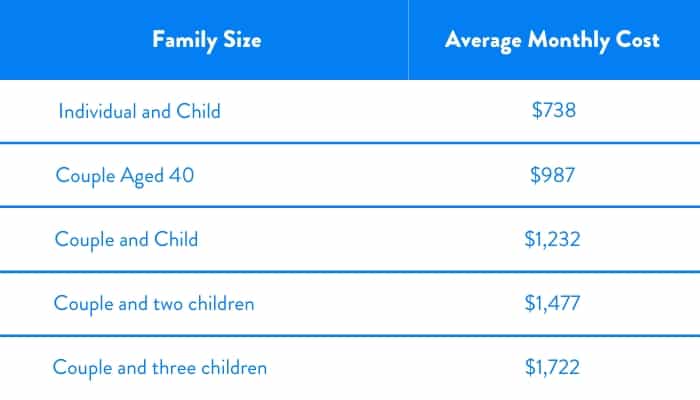 Get Help Comparing Health Insurance Plans in Mississippi
Are you searching for health insurance coverage in Mississippi? If you aren't sure which metal tier is right for you or how to find the most affordable policy for your needs, get in touch with HealthQuoteInfo.
Our licensed agents will walk you through the entire process, compare plans with you, and help you select the right policy. Call us today on 1-855-881-0430.