Health Insurance in Pennsylvania Overview
From fall 2020, Pennsylvania will switch to a state-based exchange. Residents will use the new exchange – Pennie – to enroll in 2021 plans. 

Open enrollment for 2020 health plans has ended.

The Open Enrollment Period for 2021 coverage will run from November 1, 2020, to January 15, 2021.

Short-term health plans are available in Pennsylvania for up to 364 days.

Twelve insurers offer healthcare coverage through the Pennsylvania exchange.

Over 330,000 Pennsylvanians enrolled in 2020 coverage using the exchange.
Pennsylvania's Health Marketplace
Pennsylvania has used the federally-run exchange (HealthCare.gov) since the Affordable Care Act was enacted, but that will change in 2021 when Pennsylvania will transition to a state-run exchange.
For 2021 health insurance coverage, Pennsylvania residents will enroll through Pennie, the new exchange platform. It's estimated that the transition will lower premiums by 5-10%, so residents can look forward to lower plan rates than usual!
Open enrollment for 2020 health plans has ended. The next Open Enrollment Period, for plans effective in 2021, will run from November 1, 2020, to January 15, 2021 (one month longer than usual).
There are currently twelve health insurance companies on the Pennsylvania exchange:
Highmark Choice Company

Keystone Health Plan East
Pennsylvania Health Insurance Statistics
Health Insurance Rate Changes in Pennsylvania
It's normal for health insurance premiums to fluctuate every year, so enrollees should closely monitor rate changes to avoid overpaying.  In 2020, Pennsylvania health insurance premiums saw a decrease in Bronze plan rates, but Silver and Gold plans saw a slight rise.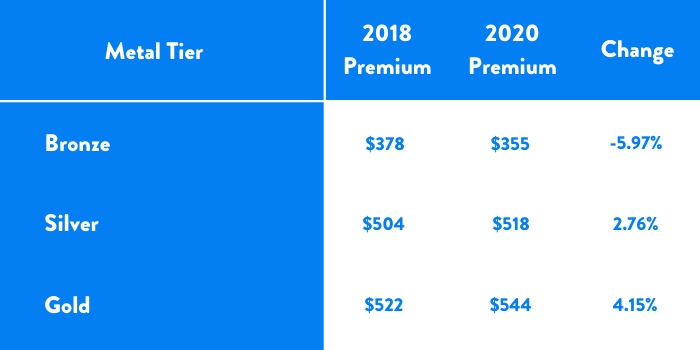 How has Obamacare Helped Pennsylvania?
Pennsylvania has one of the nation's best-uninsured rates, even before the introduction of Obamacare (the Affordable Care Act).
In 2013, the uninsured rate in Pennsylvania was 9.6%. Since the state expanded Medicaid coverage in 2015, even more residents enrolled in healthcare coverage – lowering the uninsured rate to 5.5% in 2018. 
Short-term Health Insurance in Pennsylvania
In Pennsylvania, short-term health insurance policies are an excellent option if you missed the Open Enrollment Period or lost employer coverage through job loss. 
The policies can be purchased at any time during the year. However, because the plans do not meet the Affordable Care Act guidelines, they are not available from the state exchange. Instead, they must be purchased directly from the provider. 
In Pennsylvania, coverage is limited to one year, but policies can be renewed up to 36 months.
Although short-term insurance does have a place, enrollees must be aware that they do not provide the same coverage as ACA plans. For instance, your policy likely won't cover mental health care, maternity care, or prescription drug coverage. 
How Much Does Health Insurance Cost in Pennsylvania?
Health insurance rates vary based on location, age, and other factors. This makes it difficult to estimate how much coverage would cost without creating a quote based on your credentials.
In 2020, the average premium for a 40-year-old in Pennsylvania is $471 per month. However, this cost will vary based on the type of plan you choose. 
What's the Cheapest Health Insurance in Pennsylvania?
Silver plans are the most popular plan type in Pennsylvania, much like other US states. The cheapest Silver policies currently available on the marketplace are my Priority Blue Flex EPO Silver 3950 HSA, Together Blue EPO Silver 3950 HSA, and UPMC Advantage Silver.
It's important to remember that while these are the cheapest health insurance plans in Pennsylvania, they might not be available in your county. 
Best Health Insurance Companies in Pennsylvania?
Although Pennsylvania has twelve different health insurance providers, not a single one is available in every county. 
UPMC Health Options is the provider available in most Pennsylvania counties, and, as such, is where you should start your search. Capital BlueCross and Highmark Coverage Advantage are two other providers worth researching – they both offer affordable plans but are only available in select Pennsylvania areas.
Choosing Health Insurance Plans in Pennsylvania
Finding affordable health insurance coverage might seem complicated, but the Pennsylvania marketplace makes things easy. If you don't receive health insurance from an employer, the marketplace is where you can access and compare plans from different insurers.
Plans in the marketplace are divided into three main metal tiers: Bronze, Silver, Gold. 
Higher metal tier plans indeed have a more expensive monthly premium, but lower out-of-pocket expenses (deductibles, copays, and coinsurance). The low-cost Bronze plans might seem appealing, but it may not be the best option if you rely on your health coverage a lot.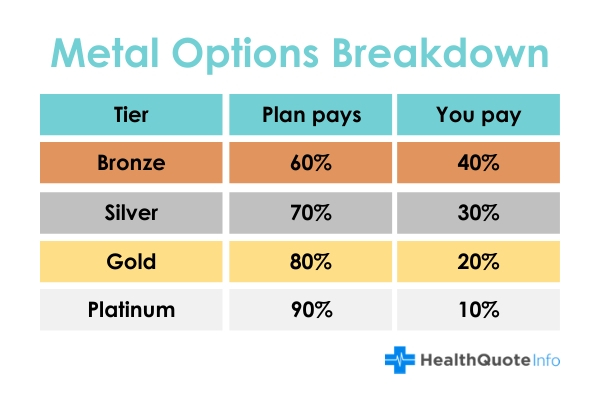 Cheapest Health Insurance by Metal Tier
Each metal tier has different premiums and out-of-pocket costs associated with it. The following premiums are based on an average 40-year-old but remember, these policies aren't available in every Pennsylvania county:
The cheapest Bronze tier plan is the

Together Blue EPO Bronze 7900

. This plan has a monthly premium of $239, a deductible of $7,900, and an out-of-pocket maximum of $7,900.

If you want cheap Silver-tier health insurance,

Together Blue EPO Silver 3950 HSA

is the most affordable option with a monthly premium of $329, a deductible of $3,950, and an out-of-pocket maximum of $6,750.

The most affordable Gold plan is the

Together Blue EPO Gold 0-2 Free PCP Visits

. The monthly premium is $343, the deductible is $0, and the out-of-pocket maximum is $7,500.
These plans are all provided by Highmark Coverage Advantage, an insurer that offers cheap plans, the plans are only available in select counties. If you live in a Pennsylvania county where Highmark Coverage Advantage isn't available, UPMC Health Options is an alternate affordable provider with coverage in most Pennsylvania counties. 
Gold & Platinum Plans – Ideal for High Medical Costs
If you expect to have lots of medical expenses throughout the year, a Gold plan is likely the right choice. While the premiums are higher, the low out-of-pocket costs make these policies more affordable for people with high medical expenses. 
If you use your health insurance often or take a lot of prescription medication, the low deductibles, copays, and coinsurance counteract the higher monthly premiums.
Silver Plans – Ideal for Average Medical Costs and Low Incomes
Silver plans are often referred to as "middle ground" policies that offer the best of both worlds for enrollees. The premiums are lower than Gold plans, and the out-of-pocket expenses are lower than Bronze plans.
If you are of average health, Silver plans are likely a good fit for you. In fact, they are the most popular health insurance plans in Pennsylvania.
Silver plans are also a good match for low-income households that don't qualify for Medicaid. 
Silver plan holders are eligible for cost-sharing reduction (CSR) subsidies if their household income falls below a certain level. 
Bronze Plans – Ideal for Healthy, Young People
Young and healthy individuals are often deterred by the high premiums that come with Gold and Silver plans because they don't use their insurance often. Instead of committing to a plan with high premiums, this demographic usually opts for Bronze plans with lower premiums.
While Bronze plans do have lower premiums, they do come with higher out-of-pocket costs. So, if you are a Pennsylvania resident considering enrollment in a Bronze plan, ensure you have enough savings to cover an unexpected medical emergency.
Average Cost of Health Insurance by Family Size in Pennsylvania
Every year, thousands of Pennsylvania households search for health insurance to cover their family. There's nothing more important than your family's health, so choosing the right coverage is of the utmost importance. 
With families coming in all different shapes and sizes, it can be difficult to know exactly how much you can expect to pay for a Pennsylvania family health plan. 
The cost is equally dependent on your policy, location, household income, and family size.
Children aged 14 and younger are covered at the same rate, but the premiums increase annually when the child reaches 15 years old. The following prices are based on 40-year-old adults and children under the age of 14: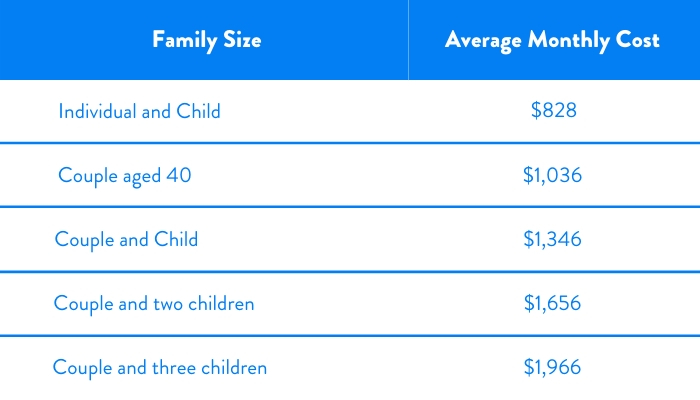 Get Help Comparing Health Insurance Plans in Pennsylvania
Are you searching for health insurance coverage in Pennsylvania? If you aren't sure which metal tier is right for you, or how to find the most affordable policy for your needs, get in touch with HealthQuoteInfo.
Our licensed agents will walk you through the entire process, compare plans with you, and help select the right policy. Call us today on  1-855-881-0430.
Information on Pennsylvania Health Insurance Plans