South Carolina Health Insurance Overview
Open enrollment for 2020 health plans has ended.

The next Open Enrollment Period, for plans effective in 2021, will begin November 1, 2020.

Over 200,000 residents enrolled in individual market health plans through the South Carolina marketplace in 2020.

Four insurance companies provide health plans in the South Carolina marketplace.

Short-term health plans are available for up to 11 months.

The South Carolina uninsured rate sits above the national average.

South Carolina has yet to expand Medicaid.
South Carolina Health Insurance at a Glance
South Carolina residents have four health insurance providers available on the state's marketplace. Compared to just two years ago, when residents had access to only one provider, South Carolina now has a broader selection of coverage options.  
The introduction of new health insurance companies has seen premiums for health care plans decrease in some areas due to the increased competition. 
In 2020, 214,030 residents enrolled in private individual market health plans through the South Carolina exchange. The Open Enrollment Period for 2020 coverage has ended, but South Carolina residents with qualifying events, such as marriage and job loss, can still enroll or make changes to their coverage. 
For health plan coverage in 2021, the Open Enrollment Period begins on November 1, 2020, and runs until December 15, 2020.
Outside of the Open Enrollment Period, South Carolina residents can enroll in short-term health plans, employer coverage, Medicare, Medicaid, or CHIP. 
South Carolina Medical Insurance Statistics

Health Insurance Rate Changes in South Carolina
It's normal for health insurance premiums to fluctuate every year. In South Carolina, health care premiums have seen minimal change since 2018, with Silver plans increasing the most of any tier.
Premiums for the forthcoming year are proposed by the insurance company before being approved by the federal health insurance exchange.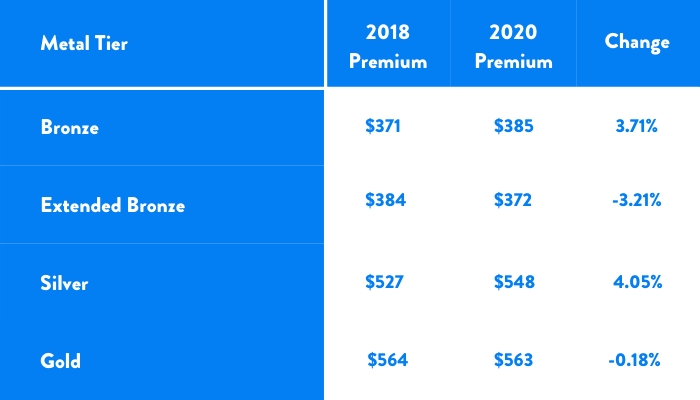 How Has Obamacare Helped South Carolina?
When the Affordable Care Act (Obamacare) was implemented in South Carolina, the state's uninsured rate sat at 15.8 percent. Since the program's inception, the uninsured rate dropped to 12.7 percent in 2018.
Obamacare has made comprehensive coverage more accessible to low-income South Carolina families and subsequently improved the uninsured rate. 
Those with a household income between the poverty level and 400 percent of the poverty level are eligible for a subsidy in South Carolina. In 2019, over 170,000 of the state's residents received premium subsidies, amounting to an average of $602 per month. 
Short-Term Health Insurance in South Carolina
If you missed the Open Enrollment Period or recently lost employer-sponsored coverage, short-term health insurance can temporarily fill in coverage gaps. 
Short-term policies are not purchased on the health insurance marketplace because they do not meet the Affordable Healthcare Act's guidelines. You could be declined coverage due to pre-existing conditions and, if you do get approved, the benefits aren't as wide-ranging. 
In South Carolina, short-term health insurance is limited to a term of up to 11 months, but you can renew the policy twice, meaning you can keep short-term coverage for up to 33 months.
While short-term health insurance certainly has a place, it's not a satisfactory replacement for a permanent policy.
How Much Does Health Insurance Cost in South Carolina
Health insurance rates vary based on location, age, and other factors. For that reason, it's difficult to provide an accurate estimate to every South Carolina resident. Everyone's circumstances are different, so the easiest way to get a precise estimate is to request a personalized quote based on your credentials.
That being said, the average 40-year-old individual in South Carolina can expect to pay $501 per month on average – a slight decrease compared to two years previous ($512 per month).
Best Cheap Health Insurance Companies in South Carolina
South Carolina currently has four health insurance companies in the state marketplace:
Absolute Total Care Inc., BlueCross BlueShield of South Carolina, Bright Health Company of South Carolina, and Molina Healthcare of South Carolina Inc.
Just a few years ago, the state only had a single insurer offering coverage. With more options now available, South Carolina residents are in a better position to compare and find a cheaper plan. 
BlueCross BlueShield of South Carolina is the insurer that provides the widest coverage and is available in every county.
Choosing Health Insurance Plans in South Carolina
If you're looking for health insurance in South Carolina, you need to first understand the metal tiers.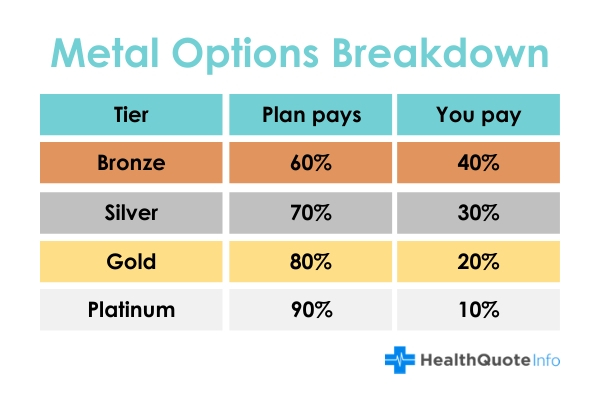 Health insurance plans on the South Carolina marketplace are divided into three main metal tiers: Bronze, Silver, Gold. Higher metal tiers have lower out-of-pocket costs but higher monthly premiums. 
Plans with the lowest premium first seem appealing at first, but depending on your health care needs, these plans may not be the most affordable option for you.
The monthly premium you pay is based on the coverage tier you choose and your age (as you get older, premiums across all metal tiers increase). For example, a 60-year-old can expect to pay at least double what a 40-year-old would pay for the same plan. 
Cheap Health Insurance Plans in South Carolina By Metal Tier
South Carolina has plenty of cheap health insurance plans available for residents – it's up to you to find them! The three different insurance providers in South Carolina have a variety of different affordable policies available in each metal tier. 
The following quotes are based on an average 40-year-old South Carolina resident.
BlueEssentials Bronze 1 is the cheapest of the Bronze health insurance plans in South Carolina. The monthly premium is $319.84, the deductible is $7,000, and the out-of-pocket maximum is $7,350.

Many South Carolinians choose Silver plans. Those who want affordable health insurance in South Carolina often go with the BlueEssentials Silver 10. The monthly premium is $456.53, and the deductible and the out-of-pocket maximum are both $7,150.

Gold plans sit at the top of the metal tier system, and the BlueEssentials Gold 4 is the most affordable. The monthly premium is $479.47, the deductible is $2,700, and the out-of-pocket maximum is $5,600.
Gold Plans – Ideal for High Medical Costs
Gold plans might have the highest premiums of all the plans, but these policies also have the lowest out-of-pocket expenses. This makes Gold plans particularly well-suited to individuals with chronic health conditions and lots of medical needs. Evaluate your health and if you think you'll need your health insurance policy quite often, a Gold plan will likely be the right choice.
Silver Plans – Ideal for Average Medical Costs and Low Incomes
If you want balance, a Silver plan is a smart choice. The premiums and out-of-pocket costs sit in between Gold and Bronze plans, meaning enrollees enjoy lower premiums than a Gold plan and lower out-of-pocket expenses than a Bronze plan.
You can save even more on out-of-pocket expenses if you qualify for a cost-sharing reduction subsidy. These subsidies are available to Silver plan holders from low-income households. If eligible, your Silver plan will cover up to 94 percent of health care expenses!
Catastrophic and Bronze Plans – Ideal for Healthy Young People
If you are young and healthy, you will likely want to avoid high monthly premiums. Catastrophic and Bronze plans have the lowest premiums, but if you do have a medical emergency, you'll have to pay the highest out-of-pocket expenses. 
For that reason,  it's critical to have enough money in savings to cover medical emergencies. You could otherwise end up unable to receive treatment or thousands of dollars in debt. 
Catastrophic plans are available to South Carolina residents under the age of 30, while Bronze plans are available to everyone.
Average Cost of Health Insurance by Family Size in South Carolina
The cost of a family health insurance plan in South Carolina varies based on your policy, location, household income, and family size.  
Of course, each family member added to your policy increases the monthly premiums by a certain amount. The cost for children aged 14 and under is the same, but when they turn 15, the monthly premium increases year-by-year.
For each additional child, the average cost of a Silver health plan increases by $328.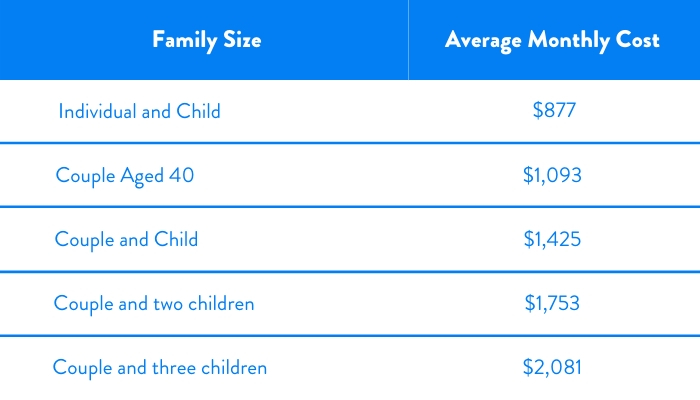 Get Help Comparing Health Insurance Plans in South Carolina
Are you searching for affordable health care coverage that meets your insurance? If you know you need coverage but aren't sure how best to find it, get in touch with HealthQuoteInfo.
Instead of handling the search on your own, call 1-855-881-0430 to speak to a licensed insurance agent. The agent will walk you through the entire process and help find the right policy for you! 
Information on South Carolina Health Insurance Plans